News
4. 7. 2011: The photos are up.
29. 6. 2011: The slides are up.
17. 5. 2011: The Program.
2. 5. 2011: The list of Accepted Papers.
8. 4. 2011: The registration is now open.
6. 3. 2011: The submission deadline has passed and the submission server is closed.
22. 2. 2011: Conference poster for download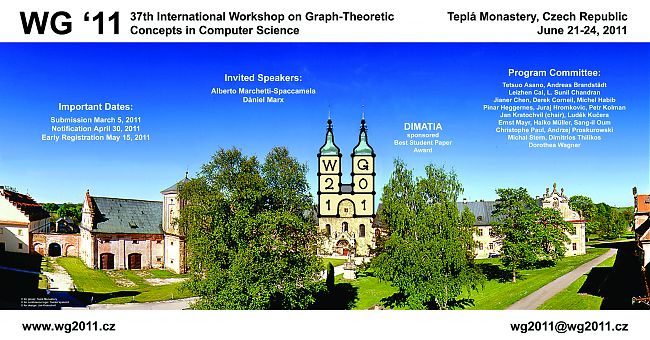 7. 2. 2011: Submission server now open. Read more in the submissions section.
Aims and Scope
WG 2011 aims at uniting theory and practice by demonstrating how Graph-Theoretic concepts can be applied to various areas in Computer Science, or by extracting new problems from applications. The goal is to present recent research results and to identify and explore directions of future research. The conference is well-balanced with respect to established researchers and young scientists. The proceedings will be published in the LNCS series of Springer-Verlag. We need the final version of accepted papers approximately two months after the conference.
Submitted papers should describe original results in any aspects and areas of Graph Theory in Computer Science, including but not restricted to:
Structural graph theory with algorithmic or complexity applications,
Sequential, parallel, randomized, parameterized, and distributed graph
and network algorithms and their complexity,
Computational complexity of graph and network problems,
Computational geometry,
Graph grammars, graph rewriting systems, and graph-based modeling,
Graph-drawing and layouts,
Random graphs and models of the web and scale-free networks, and
Support of these concepts by suitable implementations and applications.
At least one author of every accepted submission is supposed to register and present the paper at the conference.
The conference will take place in the premises of a Premonstrate Monastery in Teplá in West Bohemia, June 21. – 24. 2011.
The conference is organised by the Department of Applied Mathematics and the Institute for Theoretical Computer Science of the Faculty of Mathematics and Physics at the Charles University, and Conforg s.r.o.
Best Student Paper Award
A prize will be awarded to the author(s) of the best student-authored paper (or split between more than one paper if there is a tie). A paper is eligible if all of its authors are full-time students at the time of submission.
Call For Papers
A concise printable summary containing all necessary information is available in a Call For Papers PDF document.