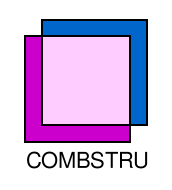 COMBSTRU semi-final workshop
Prague March 10-12, 2006
Charles University, Malostranske nam. 25, Praha 1
Lecture room S5
Travel instructions
You can look at the travel instructions How to get to the Department of Applied Mathematics. The lecture hall is in the same building on the second floor. Or you can find the travel instructions from whatever place in Prague to Malostranske nam. using search for connection by the public transportation in Prague.
Program
Friday March 10, 2006
We would like to invite you to the colloquium by E. Szemeredi, which is in S5 before the workshop.
12:20 - 13:00
E. Szemeredi: LONG ARITHMETIC PROGRESSIONS IN SUBSET SUMS
13:30
Lunch at the cellar
Variants of Graph Coloring
15:00 - 15:40
A. Raspaud: Some bounds of the injective chromatic number of graphs
15:40 - 16:00
M. Montassier: On 3-choosability of graphs
16:00 - 16:20
A. Pinlou: Oriented chromatic index
16:20 - 16:40
L. Esperet: Oriented coloring of 2-outerplanar graphs
16:40 - 17:10
coffee
Coding and Extremal Combinatorics
17:10 - 17:30
C. Deppe: Variable length codes with marker in a channel model with feedback and localized errors
17:30 - 17:50
Z. Varbanov: Some new classification results for linear binary codes with minimum distance 5 and 6
17:50 - 18:30
G. Katona: Coding problems for pairs of disjoint subsets
19:00
Combstru business meeting
Saturday March 11, 2006
More coloring
9:00 - 9:40
M. Serna: Variations on H-coloring
9:40 - 10:00
T. Mueller: Colouring random geometric graphs
10:00 - 10:20
R. Kang: The t-improper chromatic number of random graphs
10:20 - 10:40
D. Goncalves: On vertex partition and the Colin de Verdiere parameter
10:40 - 11:20
coffee
Graph Theory
11:20 - 11:40
F. Zickfeld: On the number of 3-orientations of a triangulation
11:40 - 12:00
K. Buchin: Acyclic Orientation of Drawings
12:00 - 12:45
J. Diaz: Phase transition for k-colorability
12:45 - 14:30
lunch everybody on their own
Shapes and Surfaces
15:00 - 15:40
H. Alt: Probabilistic Matching of Shapes
15:40 - 16:00
M. Buchin: On the Computability of the Frechet Distance between Triangulated Surfaces
16:00 - 16:20
S. Kappes: Non-generic orthogonal surfaces
16:20 - 16:50
coffee
Geometry
16:50 - 17:10
B. Patkos: On profile vectors in the poset of subspaces
17:10 - 17:30
D. Gerbner: Profile polytops of l-chains
17:30 - 18:10
S. Felsner: Orthogonal Surfaces: Combinatorics and Geometry
Sunday March 12, 2006
Groups and Matrices
9:00 - 9:30
O. Serra: Monochromatic solutions of equations in groups
9:30 - 9:50
A. Sali: Forbidden configurations of 0-1 matrices
9:50 - 10:10
B. Keszegh: Forbidden submatrices in 0,1 matrices
10:10 - 10:30
coffee
Miscellanea
10:30 - 11:10
P. Spirakis: Random Intersection Graphs and Hamiltonicity
11:10 - 11:30
G. Resta: Efficient Computation of Nash Equilibria for Very Sparse Win-Lose Games
11:30 - 11:50
M. Pelligrini: Searching for social structures in the web graph
12:00
The End