The workshop's main focus is on graph coverings and their applications in different areas of theoretical computer science such as models of computation, computational complexity, and algebraic graph theory. The aim of the workshop is to bring together researchers working on these diverse ends of graph coverings, to introduce their approaches and results to one another, and to try to pursue joint research combining these areas. Towards this end we plan a small number of survey talks, several open problem sessions, and ample time for discussions and problem solving...
This is already the 10th workshop in the ATCAGC series and is organized by:
Department of Applied Mathematics, Faculty of Mathematics and Physics, Charles University, Prague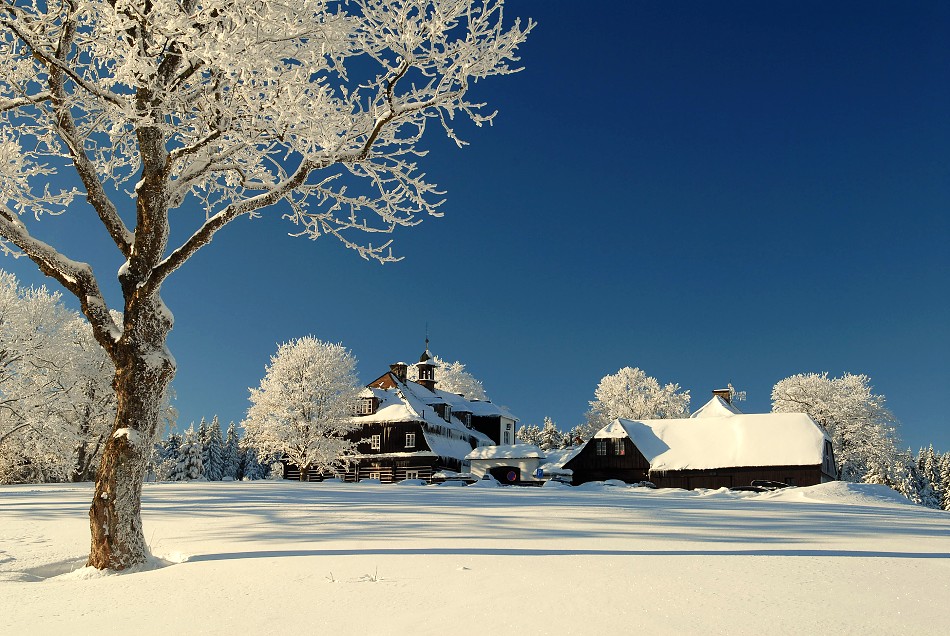 Top
Venue
Hunter's lodge Samalova chata in Bedrichov, about 70 km north of Prague. The lodge is located in pristine forests 5 km from the nearest town. The remote location, unique atmosphere and delicate cuisine of the chef create excellent conditions for a research workshop.
Top
Confirmed Invited Talks
Roman Nedela, University of West Bohemia, Pilsen, Czech Republic
Rok Pozar, University of Primorska, Koper, Slovenia
Gareth Jones, University of Southampton, Southampton, England
Libor Barto, Department of Algebra, Faculty of Mathematics and Physics, Charles University, Prague, Czech Republic
Top
Program
Monday

15:00-16:00: R. Pozar - The simultaneous conjugacy problem in the symmetric group
16:30-18:00: Problem session

Tuesday
Wednesday

09:30-10:30: L. Barto - Promise constraint satisfaction
11:00-11:30: P. Zeman -TBA
13:00-18:00: excursion

Thursday
Friday

09:30-10:00: Mária Skyvová - Census of edge-transitive maps
10:00-11:00: progress report
Top
Accomodation
Due to the capacity of the lodge, room sharing will be necessary. A limited amount of single occupancy rooms may be available. Since the place cannot be reached by public transportation, we provide a conference bus from Prague on Monday morning (expected departure at 10 a.m.) and back to Prague on Friday afternoon (expected arrival to Prague at 3 p.m.). The lodge can be reached by a taxi from nearby bigger towns Liberec or Jablonec nad Nisou, if really needed.
Top
Travel Information
A conference shuttle bus departs from Náměstí Míru in front of the "Národní Dům na Vinohradech" on Monday January 27 at 10:00 and will return to the same place on Friday January 31 afternoon. We will meet at 9:45 on the spot in the map.

You can easily reach the meeting point by using the subway line A (the green one) to the stop "Náměstí míru", or by using one of the trams 4, 10, 13, 16, 21, 22, 23 and getting off the stop "Náměstí míru". The easiest way to buy a ticket for the public transport is to either buy it directly in any tram using a dark orange machine, which accepts contactless cards, or you can also buy it in a machine in any subway station (maybe you will need coins here, but there should usually be also an option for contactless cards). Do not forget that if you buy a ticket in a machine located outside of a tram, you need to validate it.
The easiest way by car to Nová Louka is through Liberec (highway R10 north from Prague and then R35), then to Bedřichov and then finally to Nová Louka. Beyond Bedřichov the road is closed for public, but hotel guests are allowed to drive in (notice that in case of snowing you may need snow chains).

In case of any trouble upon departure, please contact Peter Zeman at (+420) 735 524 538.
Top
Fees
Participants will pay directly to the lodge. The total for 4 nights and full board will not exceed 200 EUR with shared accommodation, and will be 50% higher for single occupancy.
Top
Registration
Send an email to atcagc2020@kam.mff.cuni.cz.
Top
Previous workshops were held in:
Durham, England, 2017
Qeenstown, New Zealand, 2016
Calheta, Madeira, 2015
Ostravice, Czech republic, 2014
Bovec, Slovenia, 2013
Eugene, Oregon, 2012
Kralova Studna, Slovakia, 2011
Auckland, New Zealand, 2010
Finse, Norway, 2009
Top
Organizers
Jan Kratochvil, Jiri Fiala, Peter Zeman, Roman Nedela